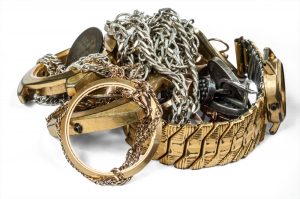 We buy almost all precious metals, but more specifically:
Sell Your Jewellery – Our expert jewellery valuation team will weigh and grade your old jewellery. We'll make a fair market offer and deposit funds into your bank account within 24 hours of accepting that offer!
---
Purity Is Prime
It doesn't matter if your precious metals jewellery or other items are damaged, broken, or tarnished, at PostGold.Cash the most important factors are the purity of your metals, and their weight.
---
No Fakes
We will only pay you for the 'Real McCoy'.  Don't send fake, gold plated, or rolled gold jewellery or other items to us, and the same goes for silver plate – it's only the real deal, i.e. solid scrap gold and sterling scrap silver that we buy here at PostGold.Cash.
---
Price Match Guarantee
We'll offer you the best money for your valuables, so if you have already been provided with a quote elsewhere, we'll be happy to match it provided there is supporting offer paperwork for selling your scrap gold.*
---
Precious Gems
We will pay you current market prices for your unwanted diamonds of all styles and carats, including rings, necklaces, bracelets and brooches, but we don't compensate you for other gemstones.
---
We Buy Scrap Gold & Silver
If you have a combination of silver and gold jewellery that you wish to sell, we'll buy that too.  No need for you to waste time sorting and untangling, we'll do the hard-graft to relieve you of the burden.
---
Sell Your Coins & Bullion
Yes, we also buy gold and silver coins, commemorative coins, bars, bullion and ingot.  Contact us today to request your free fully insured shipping envelope and start making cash for your unwanted coins and bullion.
If you have gold or silver items that you don't see listed on the website then simply get in touch via our contact form with a description of the item, and one of the PostGold.Cash team will respond to you as soon as possible.
Get in touch with us today to start the process and receive a cash pay-out for your scrap gold and silver jewellery and other trinkets!
*Paperwork should include offer price, weight, grade and date. Please note that offer must have been made within the past 30 days since gold market fluctuations apply.