Selling old gold jewellery just got a whole lot easier with PostGold.Cash.  We offer a simple, easy to action solution to dispose of your old, broken or damaged jewellery, and we don't just accept gold items.  We offer current market prices on all precious metal jewellery, and diamonds too!
Get Cash for Old Jewellery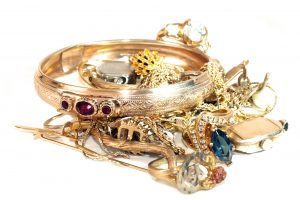 It could be that you've fallen on hard times and need a fast injection of cash, or perhaps you have a collection of tangled, knotted and tarnished necklaces and bracelets that have seen better days.  Whatever the reason for selling your jewellery for cash, if they are made from precious metals then we will be happy to buy them from you.
---
Post Your Jewellery Free of Charge!
Simply request a prepaid (fully insured) shipping envelope, pop your precious metals into the envelope and send it on its way.  Our jewellery valuation team will weigh it, value it, and call you with a fair cash offer.  Once you agree, we guarantee we'll have payment in your bank account within 24 hours (M-F)… What could be more appealing?  And if you don't wish to accept our cash offer then we will return your jewellery free of charge.
---
Jewellery We Buy
We buy all types and styles of men and women's jewellery including but not limited to:
Bracelets: id-bracelets, bangles, charm bracelets, cuffs, charms,
Cufflinks: gold, silver, platinum
Chains: chains, lockets, necklaces, pendants
Earrings: clusters, drops, hoops, studs, sleepers, clip-ons
Pins: brooches, tie pins, hat pins
Rings: clusters, diamond rings, engagement rings, eternity rings, gold rings, platinum rings, signet rings, silver rings, sterling silver rings, wedding rings
Gold Watches: Breitling, Cartier, Patek Philippe, Rolex, Tag Heuer, Tiffany, and more.
---
Let us know how PostGold.Cash can help you with your scrap gold jewellery for cash transaction today.  If you have questions or concerns then please complete our contact form and we will be happy to set your mind at ease. We offer a professional, secure and safe process to ensure we get you that cash for gold payment you are hoping for.
We also offer cash payment for precious metal trinkets, picture frames, ornaments, gold bars, coins, and more.  If you are unsure whether your item it worth anything to us then simply contact us to ask.