Do you have old, unwanted or old-fashioned silver jewellery that you'd like to turn into cash? To sell your silver, simply post silver jewellery to PostGold.Cash, wait for our offer, and you will receive a cash payment within 24 hours of accepting that offer.  It couldn't be more simple!
Silver prices change on a daily basis, so your offer will be given to you on the day your silverware is assessed by our silver valuation team.   Once you agree, we will ensure funds are in your bank account within 24 hours (M-F).
---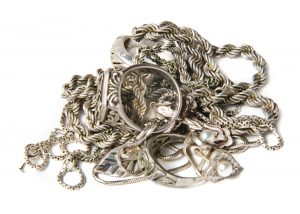 Silver Valuation is Free
Our silver jewellery & silverware valuation service is free.  We supply a fully insured (up to £750), prepaid shipping envelope to ensure you are protected and feel assured in sending your scrap silver via special delivery.
---
Post Your Silver Jewellery for Cash
We buy all types and styles of silver jewellery for cash payment, including:
Silver brooches, hat pins, tie pins
Silver earrings, clusters, drops, hoops, studs
Silver chains, crosses, lockets, necklaces, pendants
Silver bracelets, bangles, id bracelets,
Silver rings
Even if your silver jewellery and accessories are broken, damaged, tangled or tarnished, we are happy to accept them. We will determine their weight and purity and contact you that same day to provide you with a fair and competitive offer.
---
Silver Purity Percentages
PostGold.Cash will buy silver of all purities, including:
| | |
| --- | --- |
| Type of Silver | Purity |
| Fine Silver – 999 | 99.9% silver purity |
| Britannia Silver – 958 | 95.84% silver purity |
| Sterling Silver – 925 | 92.5% silver purity |
| Pre 1920 Silver Coins | 92% silver purity |
| Pre 1947 Silver Coins / 500 Silver | 50% silver purity |
Find out more about Silver Hallmarks
---
Sell Your Scrap Silver Online
Are those old silver ornaments and trinkets sitting idly gathering dust and tarnished beyond your silver cleaning abilities? Well, perhaps now is a good time to consider recycling and selling your scrap silver for cash?  Don't delay, request a prepaid shipping envelope from PostGold.Cash today and soon enough you'll have cash in hand for all those unwanted silver items, and a little more storage space too!  It's a win-win situation!
We also accept other solid silver items, as long as they fit inside the shipping envelope. These include:
silver cutlery
silver ornaments
silver trinkets
Contact us today to request your prepaid shipping envelope.
Find out more about other jewellery you can sell to us.